Like Me for the Mompreneur Manila Awards 2013
What a wonderful start for this week to find out that I have been included in the final nominees for Schoolkid.Ph in the Mompreneur Manila Awards 2013 for the category Social Mompreneurship and Advocacy. To win this award, however, entails 80% panel judging and 20% online voting. So, I humbly request for your help and vote for me. Here's how –

It really is exciting and very flattering to be included in the nominees. Schoolkid.Ph has brought a new joy to my life and knowing that it helps many parents out there gives me the motivation to keep working on it. There is no cash prize to win this award but marketing assistance and mentorship would be very helpful. If I do win, I'd like to use this learning to make Schoolkid.Ph better.
Here's how to vote: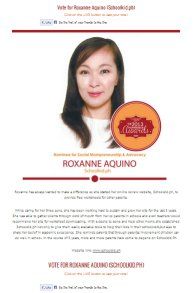 On the
Mompreneur Awards Nominee page
, there is a short write-up about me and Schoolkid.Ph. All you have to do is click the Facebook Like button on that
page
. You must have a Facebook account to vote. Voting ends by September 10, 2013. It would only take one or two minutes of your time.. promise 🙂
Ready to Like me? Then click
here
.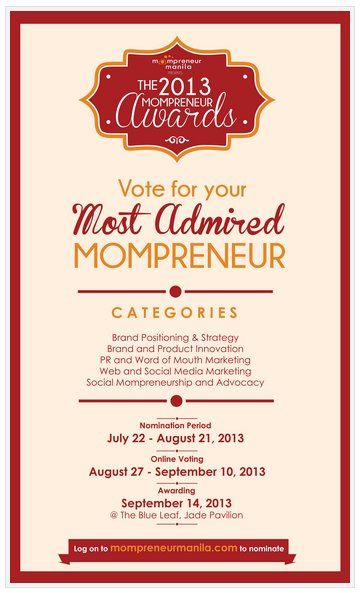 To know the mechanics of the Mompreneur Awards, click
here
.
Awarding will be on September 14, 2013, during the 2nd Mompreneur Summit at the Blue leaf Pavilion, Bonifacio Global City. If you are a mompreneur like me, do try to attend the upcoming Mompreneur Summit and learn more about how to be successful in business while enjoying motherhood at the same time.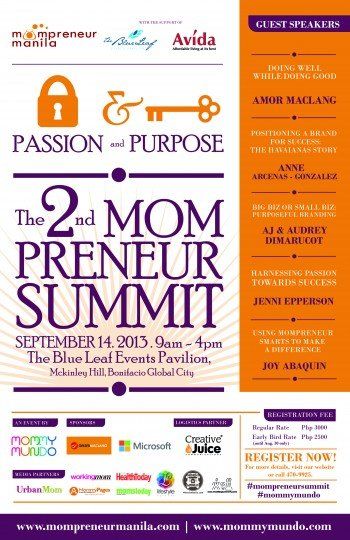 To know about the 2nd Mompreneur Summit, click
here
.
To know more about the Mompreneur Manila, visit their website at http://www.mompreneurmanila.com and their facebook page http://www.facebook.com/mompreneurmanila
No Comments »